Floral & Scintillant
Unicorn Shower Gel Refill & Bottle
200 ml of love
97% natural origin ingredients
Description
Buy your shower gel once, refill forever ❤️
What does this wonder do ?
With its reusable glass bottle and luxurious foam, this refillable shower gel cleans your skin without drying it out. Thanks to its solid tablets that dissolve in hot water, it is ready in 90 minutes, good for you, and good for the planet.
Why is it amazing ?
Inulin is a mix of sugars extracted from chicory root. Known to gently cleanse, moisturize and protect the skin, it is also a prebiotic that helps restore your skin's balance.

Sugar from wheat or corn starch brings hydration to the skin.
Magical results :
This product leaves the skin soft, supple and lightly scented. One reusable glass bottle = 22 less plastic bottles on Earth a year*
*Based on an average 14ml shower gel per French person per day.
Parfum :
Unicorn, a scent extracted from the purest rainbows, with oriental, floral and gourmet notes.
A tip from the team :
The hotter the water, the faster the dissolution !
Other scents
Selected scent — Unicorn Edition
Benefits
Rated "Excellent" on Yuka
Composed of 97% of ingredients of natural origin
Formulated without sulfates and with a neutral pH
Vegan
How to use it

Pour all the magic pellets into your reusable Thank You Handy bottle and fill it with hot (very hot) water.

Leave it on for 90 minutes without closing the bottle. Then close the bottle and shake gently: your shower gel is ready!

Once your shower gel is finished, you can wash and reuse the bottle like magic.
Our magic ingredients
Sugars from chicory root and prebiotic; cleanses and protects the skin.
Natural gelling agent extracted from brown seaweed.
We explain everything about our ingredients
safe synthetic ingredient (synthetic ingredient said to be safe and healthy for your health and proven to be effective)
Sucre issu de l'amidon de blé ou de maïs, il apporte hydratation à la peau
Sodium Lauroyl Sarcosinate
Agent nettoyant doux dérivé d'acide gras et d'amine naturelle
Gélifiant naturel obtenu par la fermentation de sucre
Citric Acid / Sodium Citrate / Monosodium Citrate
Ajuste le pH de notre gel douche à infuser (comme dans les cours de Mr Albert, ton prof de chimie)
Gélifiant naturel extrait d'algues marines brunes
Potassium Sorbate / Sodium Benzoate
Permettent à ton produit de ne pas se détériorer trop tôt, ce sont des conservateurs doux et agréables
Permet l'effet effervescent des pastilles et leur dissolution
Ingrédient qui sert à stabiliser la formule
Parfum (Fragrance) / Benzyl Benzoate / Linalool
Ça, c'est le parfum parfum Namaste et les ingrédients liés à la composition du parfum ; les ingrédients que nos nez ont sélectionnés pour évoquer un parfum plus doux que les câlins de ta maman, dévoilant une fleur de néroli enveloppée de muscs cotonneux
C'est un mélange de sucres issus de la racine de chicorée, connue pour nettoyer en douceur, hydrater et protéger la peau. C'est également un pré-biotique qui aide à rétablir l'équilibre de ta peau
Sucre obtenu par l'hydrolyse de l'amidon de maïs, de riz ou de fécule de pomme de terre et qui hydrate ta peau
Hydrolyzed Gardenia Florida Extract
Colorant naturel bleu et rouge à base de Gardenia avec des propriétés antioxydantes
Absorbe l'humidité pour que les pastilles ne se dissolvent pas avant que tu les plonges dans l'eau
L'eau sert de solvant, c'est-à-dire qu'elle sert à diluer la formule. (Et comme dit ton oncle écolo: «l'eau c'est la vie !»)
Reviews
Write a Review
Poser une question
16/05/2022
Ahmed C.

France
Un doux voyage au pays des licornes
La bouteille et le gel douche à infuser sont superbes laisse la peau toute douce et hydrater ! Facile d'utilisation il suffit de suivre les instructions, pour embarquer dans un doux et parfumé voyage au pays des licornes
18/12/2022
Angeline M.

France
Incroyable
La bouteille est en verre avec une écriture holographique elle est trop belle.
04/12/2022
deborah v.

France
magique
incroyable, senteur magique
09/10/2022
Kaylan G.

France
J'ai beaucoup aimé
J'ai adorer tout les produits surtout le gel douche à infuser d'ailleurs quand allait vous ressortir le gel douche à infuser namaste ?
26/08/2022
Camille H.

France
pratique
super cool, bien pour nous et pour la planète alors que dire de plus ! au top
28/07/2022
Marina D.

France
Odeur à tomber
J'adore le principe de faire soi même, très simple et ça sent tellement bon
08/07/2022
Juliette T.

France
Bouteille
La bouteille et les recharge sont top Et 1 pas de plus pour l'écologie !
07/07/2022
Alexandra B.

France
J'adore
J'ai passé commande après avoir découvert le gel hydroalcoolique dans une grande enseigne. Mon mari et moi avont adoré l'odeur "licorne" et nous nous sommes laissé séduire après une balade sur le site par les gels douches solides... Bien entendu odeur "Licorne" également. Colis reçu très rapidement, et franchement soigné dans les moindres détails ! Ravie d'être un nouveau chaton et de faire partie de la team !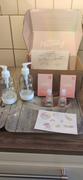 04/07/2022
Evelyne F.

France
Au top
Un odeur très agréable
21/05/2022
Crystale B.

France
On ne peut que aimé
J'adore je me sans comme une princesse quand je reçois les produits merci handy. C'est innovant, des super packaging, de merveilleuses odeur et une super équipe à l'écoute, on ne peut que aimé.
15/05/2022
Leïla D.

France
Un pur moment de bonheur
J'ai découvert depuis peu les produits Merci Handy, et j'en suis déjà accro!!!! Des senteurs uniques et incroyables qui font du bien au corps et à l'esprit!!
18/02/2022
Muriel L.

France
Coffret gel douche unicorn
Bouteille super jolie et très bonne odeur
12/01/2022
Céline P.

France
Super
Pas encore utilisé. Mais sent très bon
09/01/2022
apolline r.

France
Top
Idée écologique excellente, couleur syper sympa, bouteille en verre, réutilisable, parfum et couleur au top
08/01/2022
joelle k.

Belgium
savon aux milles paillettes
Toujours top le principe du flacon en verre. Odeur juste délicieuse
16/12/2021
Lydie R.

France
Parfait
Parfait, il faut mettre de l'eau bouillante
Top
soin du corps
Unicorn Shower Gel Refill & Bottle